Tierra Whack reminds us of expressive rap and unleashes Whack World.
Women are stepping up and showing out in Hip-Hop and Tierra Whack is the front runner.
Whack World is perfection and a great introduction to Summer. The project features 15, 1 minute melodic tracks. It's accompanied by an equally original visual album that is seamless, and can also be enjoyed separately.
How ingenious!
Being a Philadelphian has granted me an early ear to Whack's music. Starting out as "Dizzle Dizz," Whack followed suit of most talented Philly rappers. She appeared in many battles and cyphers. As she grew through her art, her rap style matured into what we hear today; whimsical and reminiscent of Missy Elliott and Outkast. The artwork of her music caught my attention initially, then I was mesmerized by her assault on wax. The exaggeration of her cover art reminds me of the infamous covers of MAD magazine. Always lively with cryptic messages left open for interpretation. Her breakout hit Mumbo Jumbo, propelled her to music stardom. After garnering praise from Solange, Meek Mill, and Kehalni. Now, all eyes are watching Whack.
Whack is a lyrical assassin in the forever refreshing, Toe Jam. An early single in a string of releases where she doesn't waste a second of the beat. Delivering bar after bar, she progressively packs in more punch.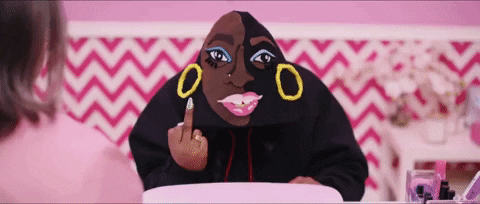 Whack World opens with Black Nails, a declaration of uniqueness as she promises, "Best believe I'm gon sell, if I just be myself." Whack cleverly finds a way to talk about everything; From Cable Guy, where she parallels dealing with an estranged lover to the hassle of having cable. To 4 wings, where she lightly explores inner city culture. Where the neighborhood Chinese store is a regular hangout. A hangout where many pull up to flex, shoot dice, or conduct business. Whack raps "my city needs me, I promise I wouldn't fail em." as she reminisces the loss of a friend. In Hookers, she refutes claims that she needs anyone to provide for her.
In Silly Sam, the subject is relationships and we're all getting played. See if you can keep up with how many games Whack mentions in 60 seconds. Sore Loser recognizes the need of a new boo after an old one gets boring.
Tierra Whack gives us more than we bargained for and runs laps around everyone with the release of Whack World. Check it out below and drop your favorite songs in the comment section.